January Pay It Forward "How To" Video Link
Click the above link to acces the January Pay It Forward Club video link and learn how to make a crochet hat for Warm Up America.
If you registered for the club and have your materials you can get started. I had technical difficulties with the video this month. In the future the QR code will be a direct link to the YouTube video.
If you missed registration for the club but would like to participate using your own materials, please feel free to check out the "how to" video. Completed hats need to be returned to the library (to Miss Kayla) by January 31st to be sent to this month's charity, Warm Up America. Any questions, you can always email galefreeteens@gmail.com
---
February Grab & Go Clubs
Please register by January 29th.
Pick up will be Tuesday, February 15th
Click the images below to register.
---
---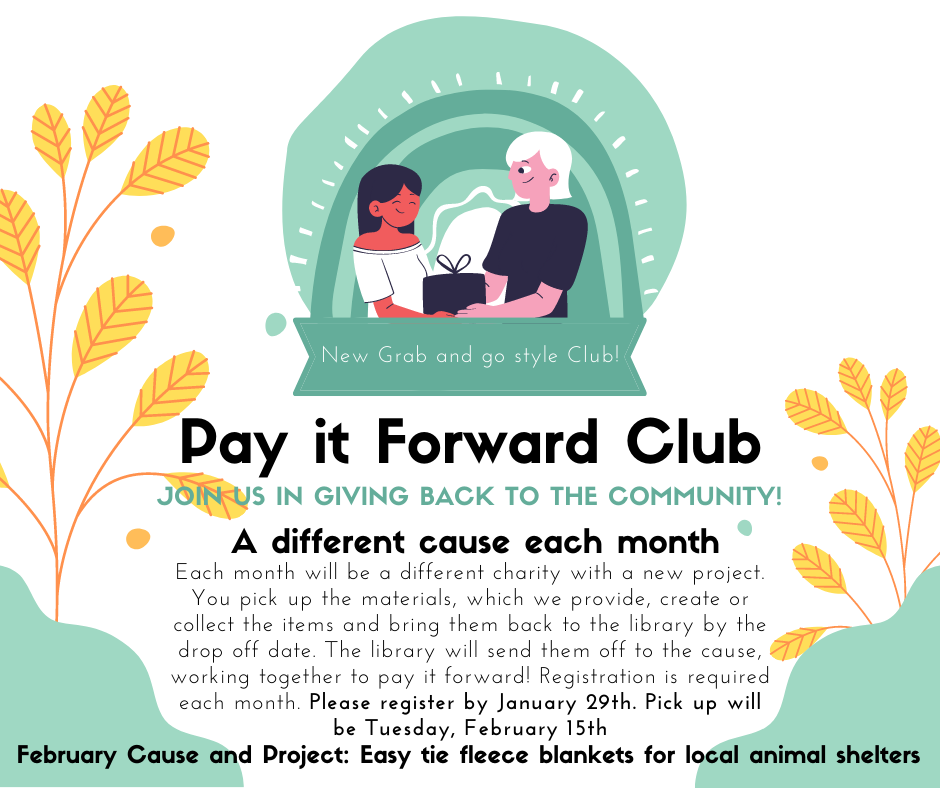 ---
This club is currently FULL. If you registered in January, your registration is automatically carried over to February. Pick up will be Febraury 15th, you will receive an email confirming your pick up appointment. Any questions, please email Miss Kayla at galefreeteens@gmail.com
---
YA Book of the Month Club
Please register by February 5th
---
Have you heard of all those young adult subscription boxes and wished you could join the fun? Now you can with the Gale Free Library Young Adult Book of the Month Club! Just sign up each month using the link provided, it's FREE.
Sign up is now open for our February book. They will be available for pick up by February 8th or 9th. Each book of the month will come in a reusable tote bag, include our surprise book of the month, along with bookish goodies such as bookmarks, buttons, stickers, and more, all for you to keep! Supplies are limited, sign up is REQUIRED.
Sneak peek of our February book and theme:
Blind Date (with a book!)
These two have known each other their whole lives. They've endured summer vacations, Sunday brunches, even dentist visits together. Their mothers, who are best friends, are convinced they would be the perfect couple, even though they can't stand to be in the same room together. Tired of their mother's antics, the two hatch a plan to get their moms off their backs. Permanently. All they have to do is pretend to date and then stage the worst breakup of all time—and then they'll be free. The only problem is, maybe they don't hate each other as much as they once thought...
---